Fashion stylist, free flowing natural hair inspiration and "let me show off my squad goals" GOALS is Raven Roberts. She's based in New York and gives us more and more life by every post on IG. You basically want to be her when you grow up!
Find out more about her life and great fashion sense by clicking the links and gawking at the pics below!

Archives

May 2018
March 2018
February 2018
January 2018
November 2017


It's Important to shine light on Creative Artists, Designers and Bloggers. We get inspiration from everywhere and want to use this platform to not only spread the word, but show some love.

Categories

RSS Feed

Author: Amsara Holly

​I've been writing creatively since I was 10. I've been singing since I was 3. I fell in "love" for the first time when I was 13. Living my dream with my sisters. Eating hella food. Playing hella music.
Powered by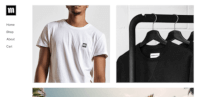 Create your own unique website with customizable templates.