I stumbled upon Shop LoveEvelynMarie while browsing through Instagram and instantly couldn't get my eyes off of the two piece sets and doses of sparkle. A personal style blog and online store who's IG bio perfectly states "From brunch to the boardroom, we have you covered." and they couldn't be more spot on! Curated in LA, with free shipping on orders over $150 I suggest you get it while it's hot!

We're definitely fans & would love to rock some pieces in our next photoshoot.... hummm😏

Be sure to follow the brand below on their Socials & Shop!

Shop & Follow

Archives

May 2018
March 2018
February 2018
January 2018
November 2017


It's Important to shine light on Creative Artists, Designers and Bloggers. We get inspiration from everywhere and want to use this platform to not only spread the word, but show some love.

Categories

RSS Feed

Author: Amsara Holly

​I've been writing creatively since I was 10. I've been singing since I was 3. I fell in "love" for the first time when I was 13. Living my dream with my sisters. Eating hella food. Playing hella music.
Powered by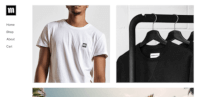 Create your own unique website with customizable templates.